The writer Paul Coelho once said: "If you're brave enough to say goodbye, life will reward you with a new hello". It's an inspiring thought, but in reality, it's natural to be resistant to change and bidding farewell to what has served us well enough in the past.
So too, in the lab, we are often attached to processes – such as handheld pipetting – that we've practiced for decades; we're used to them and not quite ready to let them go.
From the 'Pasteur' pipette in the 1800s to Hans Schnitger's invention in 1957 of a more accurate and reliable pipette using air displacement, handheld pipetting has become an iconic image of laboratory life. More than just a symbol, the pipette is deeply embedded into the fabric of research and has helped to power discovery after discovery in the last century.
But could now be time to move on? Schnitger's inspiration for his game-changing pipette came from a real-life problem he was trying to solve. He needed a way to handle samples more accurately than the existing pipetting method of the time. It's hard to imagine now, but the old approach relied on scientists sucking up liquids by mouth and was unsurprisingly risky – with one unlucky physician even reportedly ingesting a sample of typhoid bacilli. In addressing his own pain point, Schnitger made possible a step-change in laboratory research.
We are now on the cusp of a similar shift. Many laboratories are stepping up to automated pipetting options, which offer greater efficiency and accuracy. While automated solutions were out of reach for some facilities in the past, partly due to constrained lab budgets – available options have come a long way. Automated pipetting is now affordable, and flexible liquid handling solutions that work across applications for a wide range of tasks are more generally available. This uplift in accessibility allows labs of all sizes to take the leap into automating their everyday manual liquid handling processes.
The problems of manual pipetting
So, why might now be the perfect moment to move on from manual pipetting? As with Schnitger's scientific stimulus back in the 1950s, we face an array of challenges in research today and the right tools to do the job are vital. In the context of the ever-increasing volume, complexity and pace of modern-day research, manual pipetting presents a host of stumbling blocks.
Manual pipetting tends to be appropriate for low-complexity, low-throughput applications handling small numbers of samples. Outside of this setting, it too often falls short of the results we need to fully advance our research objectives.
First, manual processes can be subject to variable results from researcher to researcher. Working day in, day out, with manual pipetting is burdensome for researchers themselves, risking repetitive strain injuries (RSI) and even exposing them to hazardous materials. The limitations on productivity are obvious – painstakingly pipetting by hand is time-consuming and inhibits a lab's ability to perform large-scale experiments. Miniaturized processes – using smaller amounts of sample and reagent are simply not feasible using manual applications. Significantly, spending a large proportion of time on these tasks, prevents talented, highly qualified researchers from investing their energy and knowledge into accomplishing better research.
Automated solutions of the past were often inaccessible
Of course, these problems have been well understood for years, but until recently, getting to grips with them was fraught with obstacles. One barrier for many facilities without substantial lab budgets was cost, with some fully integrated work cells costing up to $500,000. Cost hasn't been the only hurdle to overcome. Large, automated pipetting systems struggle to find a space in increasingly crowded, multi-purpose laboratories, where scientists and equipment compete for space.
All too often, in the past, automated solutions were complex to use, requiring substantial setup and training time and an in-house 'expert' to maintain, program, and operate them. Many of us have heard anecdotes in which the automation technical expert unexpectedly left, and the large, costly piece of equipment was left gathering dust because other researchers in the lab didn't know how to use it. Then, even when lab leads do have a hardware solution in place, there have been other issues in play. Long before the pandemic disrupted global distribution chains, researchers sourcing third-party consumables for their automated liquid handling solutions faced shortages and supply issues.
All these factors have created uncertainty for those laboratories keen to move away from handheld pipetting, but who need to build a compelling case for change.
A new, democratic era of accessible liquid handling automation
Thankfully, technology is astonishing in its power to transform what was only open to the very few in the past and make it accessible on a wide scale. Many innovations that have shaped the last century – such as computer processing power – have followed this pattern. Most of us now carry a personal computer of sorts in our pockets – in the form of a smartphone – something that would have seemed impossible just a couple of decades ago.
The same democratization is now in our grasp with liquid handling automation, with the advent of a new class of automated pipettor: accessible instruments that are affordable, intuitive, and compact enough to open up the efficiency and productivity gains of automation to every laboratory and researcher.
As a leading example of this new class of user-friendly pipettor, SPT Labtech's versatile apricot range offers that all-important first step into liquid handling automation – allowing researchers to effortlessly increase their throughput with a compact, benchtop unit that will find a spot even in crowded laboratories. Instead of needing a technical expert or complex programming, running protocols becomes a breeze with easy-to-use software and a familiar touchscreen interface. In fact, it's so simple that researchers can get up to speed right away with minimal training, and some instruments in the range even offer straightforward 'DIY' setup options.
But don't just take our word for it. Researchers, lab managers and lab technicians from academic institutions to leading pharmaceutical companies are impressed by the ease of use of the apricot liquid handlers. Edward P. Amento MD of the Molecular Medicine Research Institute told us how 'easy and simple to use' he found the apricot S range, so much so that the apricot pipettor has become an 'indispensable instrument' for the organization's high-precision assays. Janette Sung, a Senior Associate Scientist at Gilead Sciences, similarly found the support she received from the apricot Product Specialist second to none, saying, "I am very impressed with the services that the apricot Product Specialist at SPT Labtech provided. Based on the training and email communications, we are all benefitting from his extensive experience and knowledge in learning how to use the PP5 to its full extent."
Beyond the benefits of ease of use, the new class of accessible automated pipettor exemplified by the apricot instruments delivers full walkaway capability across applications and liquid handling tasks, allowing for accessible use to meet the varied needs of different lab users – not just dedicated high-throughput processes.
In this new automation world, tip supply issues are also less of a worry because the instruments operate with a dedicated supply of disposable tips compatible with standard labware, providing peace of mind and security in today's ever-changing, uncertain global situation.
Hello, not goodbye
So, bearing in mind all the challenges of handheld pipettors and the opportunities of new reliable and affordable solutions, is it time to say goodbye to manual pipetting? While the handheld pipette is unlikely to disappear completely, it seems inevitable that easy-to-use automated pipettors will increasingly handle routine liquid handling tasks. Thanks to new solutions like the apricot instruments that suit a wide range of pipetting tasks and lab budgets, scientists can say "hello" and open the door to a more efficient future of affordable and accessible liquid handling automation.
What's the right apricot instrument for your lab?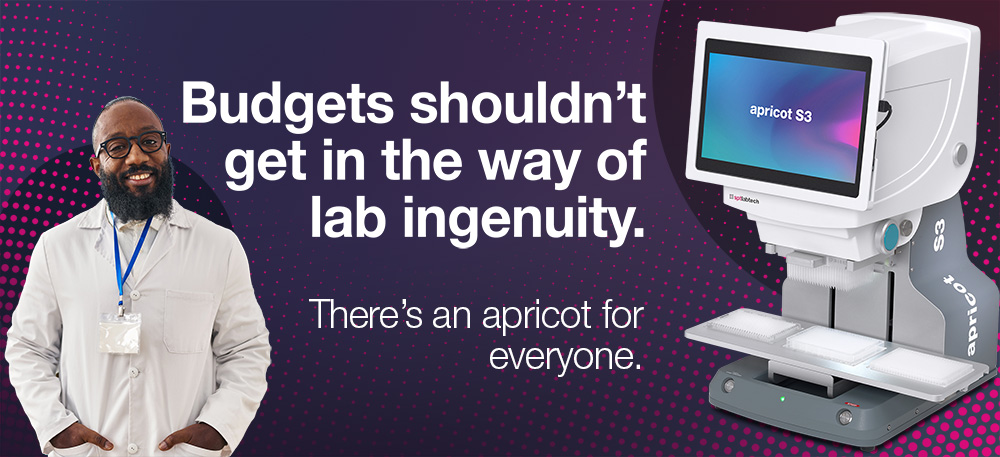 Talk to one of our experts: