SLAS San Diego 2023 has come and gone, and SPT Labtech were thrilled to be exhibiting at this premier event for life sciences and laboratory automation. This year's conference was bigger and better than ever, bringing together leading experts, innovators, and decision-makers from the industry to share insights, showcase new technologies, and network with one another.
As a global leader in laboratory automation, we're proud to have been a part of this exciting event, showcasing our latest products and services to attendees from all around the world. From innovative liquid handling systems to sample management solutions, we have a wealth of expertise and experience to offer the SLAS community.
One of the main highlights of our exhibit at SLAS San Diego 2023 was firefly®. The new platform supports innovative all-in-one liquid handling, bringing together multiple technologies within a single compact design for more efficient library and sample preparation workflows and maximum output. Underpinned by powerful, intuitive software, firefly unlocks the potential of automation for all to accelerate genomic research.
"We're thrilled to be exhibiting at SLAS San Diego 2023 and to be able to share our expertise and experience with the life sciences community," said David Newble, CEO of SPT Labtech. "Our mission is to empower scientists to perform their best work, and we believe that our innovative solutions and expertise will be a valuable resource for attendees at this year's conference."
See our expanded portfolio at Booth 1823
We had a fantastic number of customers visit us at Booth 1823 to find out more about our full portfolio – from genomics and drug discovery to automated sample management. The team were on hand to walk them through our extensive product range, from our accessible apricot liquid handling solutions through to our unique 'dynamic duo' for miniaturizing NGS methods.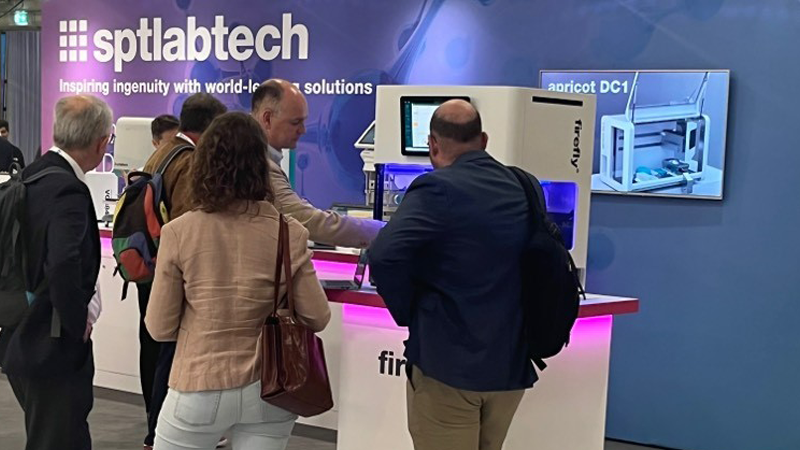 Tutorial session:
"
Fast and reliable automation of the NEBNext Ultra II FS DNA library prep kit for Illumina with firefly®"
In addition to showcasing our cutting-edge products, SPT Labtech also hosted an educational tutorial at SLAS San Diego 2023, with our very own Paul Lomax providing the tutorial session on "Fast and reliable automation of the NEBNext Ultra II FS DNA library prep kit for Illumina with firefly".
The session details are below:

Tuesday, February 28, 2023

9:00 AM – 10:00 AM

Room: 17A

Paul was on hand to answer all your questions around firefly across the whole event.

Take a look at the presentation slides and video below.
Win our brand new BioMicroLab Scanner!

Our brand new scanner brings the latest camera technology and software to the widest range of customer labware.

Those of you who headed over to our booth 1823 and signed up will have been in with a chance to win!
There's an apricot for everyone!

Our robust, affordable S range of apricot liquid handling instruments will be on show with the right bench-top solution for your lab. Learn more about empowering your lab staff when copying, mixing, pooling, aliquoting, or preparing multi-step assays and serial dilutions across a variety of applications.
The dynamic duo for genomics miniaturization

The combination of our mosquito® for highly accurate positive displacement pipetting and dragonfly® discovery's non-contact, nanoliter-to-milliliter dispensing offers proven miniaturization workflows for a growing list of over 40 NGS methods. Come talk to our experts!
Automated sample management for every lab

We're keen to show you our flexible and easy-to-use BioMicroLab sample management solutions. Whether it's tube handling, scanning, labelling, or de-capping – let us know how we can help you accelerate your workflow.
SLAS Posters
SPT Labtech had a number of posters submitted to present at SLAS 2023 which you can view below:
Didn't attend SLAS 2023?
Our experts are always on hand to answer any questions or arrange a virtual demo of our products so get in touch and speak to one of the team today!