We sat down with Paul Lomax, Head of Genomics at SPT Labtech, to find out how exciting new technological developments have opened up opportunities for widespread innovation. In this interview, Paul touches on the history and current state of play of automation technologies for genomics before giving us a glimpse into what we can look forward to in the near future.
Starting out with the Human Genome Project
For well over 20 years, Paul has worked within liquid handling – or, more accurately, automated liquid handling. A highly respected 'old hand' in the industry, Paul sees his career as having been shaped by a landmark in the history of genomics: the launch of the Human Genome Project.
The Human Genome Project represents a key moment for Paul because it set him on the path of automating highly complex genomics workflows. Over the years, he has collaborated closely with many leading labs and internal development teams. Paul considers his work part of an ongoing effort to find optimum automation solutions for genomics applications, as new methods develop, come online, and mature.
Since joining SPT Labtech seven years ago, Paul has continued working in this collaborative manner, making the most of very close partnerships with industry leaders. From earlier sequencing techniques, applications in genomics have evolved and expanded rapidly with, among others, PCR and next-generation sequencing (NGS) coming to the fore. As these new and novel ways of doing things spread quickly through the industry, Paul and his field-based applications team get down into the weeds – always on the lookout for ingenious technological solutions that will remove obstacles and help customers streamline their processes and workflows.
Lowering costs to unlock wider innovation
One of the drivers behind the proliferation of new research activities in genomics is the widely known fact that sequencing costs are falling all the time. That said, barriers to entry remain around affordability. Library prep in NGS, for example, is expensive, and the cost per sample remains high. But the commercial and scientific demand for cost-effective scalability is there, as Paul points out: "Users want to run more experiments and get more and more data from their experiments".

SPT Labtech is known across the industry for its highly successful miniaturization of genomics methods and as the pioneer of the innovative positive-displacement pipetting technology (at the heart of the widely used mosquito® and dragonfly® combination for NGS).
Anything you can do to reduce costs is good – and savings on reagents are clearly a key driver for labs to miniaturize. The adoption of miniaturization is increasingly necessary given the growth in the number of samples that labs need to process on a daily basis. Particularly in areas like single-cell sequencing, the sheer number of cells that need to be processed makes working with traditional liquid volume ranges prohibitively expensive. The vision here for Paul is to make what was previously not viable a possibility for ever more labs of all shapes and sizes.

Miniaturizing NGS methods
Miniaturizing NGS is challenging because standard NGS kits from vendors such as Nanopore and Illumina are generally developed to work with manual pipettes that are designed for use by individual scientists at the lab bench. When you try to scale down the volumes used in these methods, you soon run into a host of challenges around certain reagent types, different liquid viscosities, and tricky tasks such as bead cleanups.
Positive-displacement technology really comes to the rescue here because it does such a good job of handling all the various liquid classes. For that reason, Paul is also keen to stress that SPT Labtech's technology is genuinely liquid-class agnostic. The company's positive-displacement pipetting allows mosquito and dragonfly users to pipette and dispense highly accurately at very low volumes. And those two things, miniaturizing and handling all the common liquid classes, are what make the difference for Paul. Ultimately, however, the objective is to drive down the cost to make it possible for users to generate more insightful data.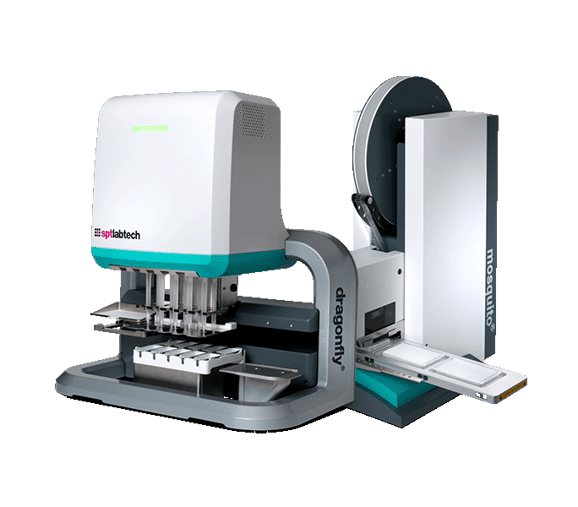 The future of miniaturization
Technologically, there's been a huge amount of progress and a great deal of success to date. But that doesn't mean all the hard work on miniaturization has been done. In Paul's mind, there's still plenty of opportunity in this area for new technologies to open up yet more possibilities.
Across the board, throughput keeps going up – and that's not going to change as costs come down even further. In addition, labs in Paul's experience are always going to stretch their budgets to achieve more. He sees more lab managers looking for end-to-end automation and instrumentation that's accessible to all laboratory staff. And thanks to instruments like the mosquito and dragonfly, offering intuitive software that's easy to use, miniaturization of liquid handling in genomics has become a real possibility for all users without the need to depend on automation experts.
Launch of the all-in-one liquid handling platform
Earlier in 2022, SPT Labtech launched its revolutionary all-in-one liquid handling platform for genomics: firefly®. We asked Paul what prompted the development of the new platform, especially in the light of SPT Labtech's experience and deep knowledge of miniaturization.
Visiting customers' labs, Paul and the team had noticed that SPT Labtech was increasingly selling pairs of instruments. Initially, the common instrument pairing was the mosquito and dragonfly – mosquito for pipetting and mixing steps, and dragonfly for dispensing – because these two solutions, dubbed the 'dynamic duo', work hand-in-hand and are well-suited for genomics applications, especially library prep. When SPT Labtech introduced the apricot range of accessible automated pipettors, Paul also noticed the company was selling apricot systems along with the dragonfly dispenser. So, rather than making users walk plates between different instruments, it seemed a logical next step to combine core pipetting and dispensing technologies into a single compact system. These observations coupled with feedback and input from leading laboratories are what gave birth to the idea of firefly – an instrument that combines multiple functionalities and adds the necessary accessories to enable the automation of end-to-end genomics workflows.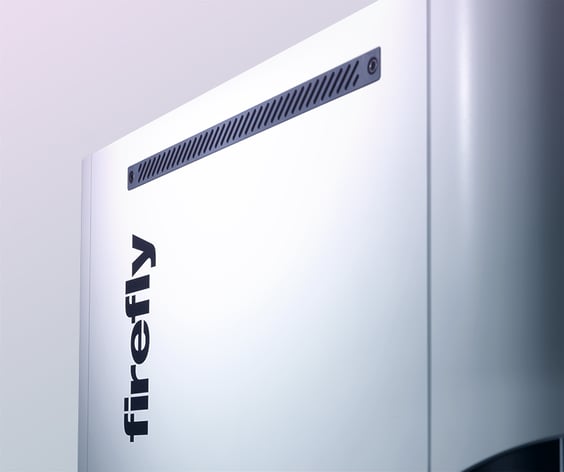 On the road with firefly®
Since the launch of firefly in February 2022 at SLAS in Boston, the new liquid handling platform has been on an exciting journey (quite literally in the form of an international tour) with roadshows held at key scientific hubs across the US and Europe. For Paul it has been an interesting year because of the large amount of excitement generated by the new platform.
Users are thrilled with the end-to-end automation of applications and are often quite amazed at how such a compact instrument can offer so many functionalities on such a small footprint. The firefly software is also a gamechanger, setting a new industry standard for its level of user-friendliness. These were the benefits most popular with many customers who were treated to tailored firefly demos at the various locations on the international tour.
Paul has now led several of the roadshows in Europe and the US – his passport has acquired lots of new stamps this year. Feedback from customers has been consistently good from all quarters. So, it's been a flying start for the firefly platform in 2022.
Big plans for firefly in 2023 and beyond
The immediate future for firefly is lots more of the same. Paul and SPT Labtech's team of scientists are extremely busy with application development, working on a whole range of standard library protocols. This work is likely to continue throughout 2023.
The team posts the new protocols to the cloud – firefly's collaborative peer-to-peer network – from where firefly users can download and use the applications directly on their instruments. A big announcement is planned for this year's SLAS in San Diego. While still under wraps, a new addition to firefly promises to unlock yet more functionality for users.
What's next for genomics automation?
Asked where technology can help accelerate more innovation in genomics, Paul sees the focus remaining in and around sequencing. We've seen the cost of sequencing continually go down with new sequencing platforms coming onto the market. There are areas like long-read sequencing that are receiving renewed focus. There's also much still to be done in the single-cell area. Summing up, Paul sees no slowdown in new developments with lots of people coming to sequencing afresh or expanding what they already do.
All of these advances require sample preparation. Here's where SPT Labtech remains committed to helping users take the pain out of sample prep and getting them the data they need. Fundamentally, it's all about giving back time to highly skilled researchers, so they can do what they do best – analyzing data and putting their scientific training to use rather than spending their time moving liquids around. This means there's still much to do for Paul and the team, and yet more exciting times ahead.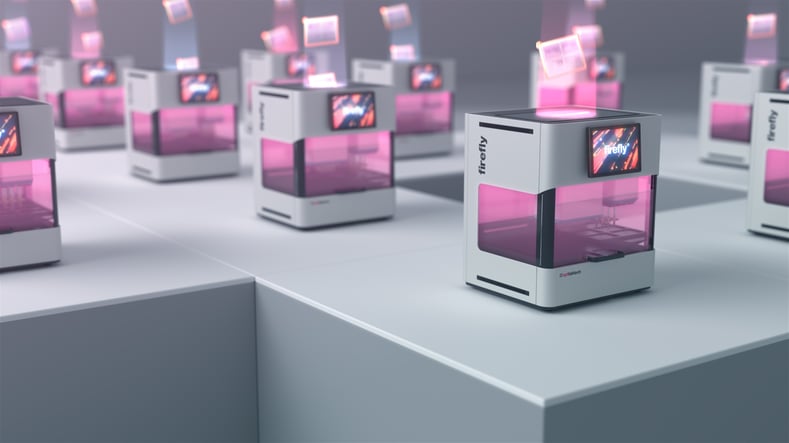 Want to know more about firefly or NGS miniaturization?
If you would like to explore how miniaturization or all-in-one liquid handling automation could benefit your lab, our team would love to hear from you.