Most drugs bind to a target's binding site (orthosteric binding). However, binding to a site distant from the binding site appears to have some very significant advantages over orthosteric binding, one of which is reducing off-target side-effects.
Our latest labCrystal magazine describes an innovative fragment screening strategy to identify potential allosteric drug binding sites of a receptor involved in ion channel diseases, such as Alzheimer's disease.
Published in PNAS (Spurny, R et al., 2015), this study is part of a collaboration between Dr. Ulens, Associate Professor at Katholieke Universiteit (KU) Leuven, Belgium, and Janssen Pharma, Belgium. It uses X-ray crystallography to screen a recently identified chimera (α7-AChBP) of the native α7 nicotinic acetylcholine receptor and the acetylcholine binding protein. Mutations in these receptors result in a diverse range of inherited neurological disorders and form a drug target for a wide variety of therapeutically used drugs, including smoking cessation aids, anti-emetics, sedative/anxiolytic benzodiazepines, barbiturates, general anesthetics and anthelmintics. The PNAS paper reports on the co-crystallization of 5 allosteric binders that produced reproducible crystals.
"Thanks to the mosquito crystal's low pipetting volumes, a larger set of conditions could be screened per complex (on average ~1000 conditions) leading to high-throughput identification of crystallization conditions within 1-2 weeks," commented Dr. Ulens.
Pipetting small volumes, fast and reproducibly
X-ray crystallization studies of the allosteric binding complexes were set up using SPT Labtech's mosquito® crystal automated liquid handler to increase speed, throughput and reproducibility.
Structure determination of the crystals obtained from these screens (Fig 1) resulted in the identification of three allosteric sites of α7-AChBP that were involved in receptor modulation. In combination with electrophysiological recordings on the human α7 nAChR, it was demonstrated that fragment binding at these sites modulated receptor function.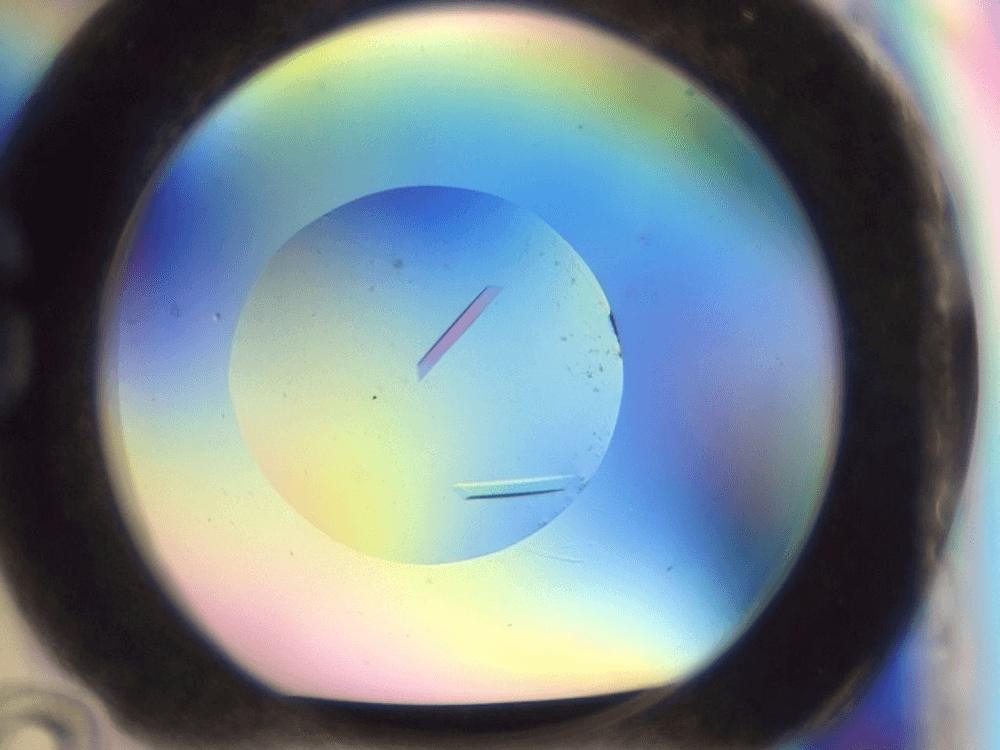 Fig 1. A 200 nanoliter sitting drop pipetted by mosquito crystal, containing two crystals used for actual diffraction data collection.