Hot off the press, The State of Automated Pipetting 2022 shines a light on what's driving laboratories to automate their day-to-day liquid handling tasks. Across many application areas, researchers and lab staff are transitioning away from handheld pipettors to automated pipetting solutions.
Drawing on insights gathered from professionals in biotech, pharma, CROs, and research institutions, our survey report explores the current automation adoption trends for liquid handling. The report sets out the benefits and key challenges faced by labs when making a move to more streamlined and automated workflows.
What's driving this trend towards liquid handling automation? What are the hurdles for labs making their first step towards a fully automated process? And what are the key issues around the ease-of-use of liquid handling tools and the growing demand for flexible, application-agnostic solutions? Find out more in the full survey report:
Get your free copy of the report
A new chapter in liquid handling automation
Labs are increasingly automating more of their liquid handling. Over 60% of the lab professionals we surveyed use some form of automation – ranging from handheld electronic pipettors all the way through to integrated workstations. While traditional and electronic handheld solutions are still in widespread use, almost 40% of participants are already benefitting from platforms that offer varying degrees of full walkway capability.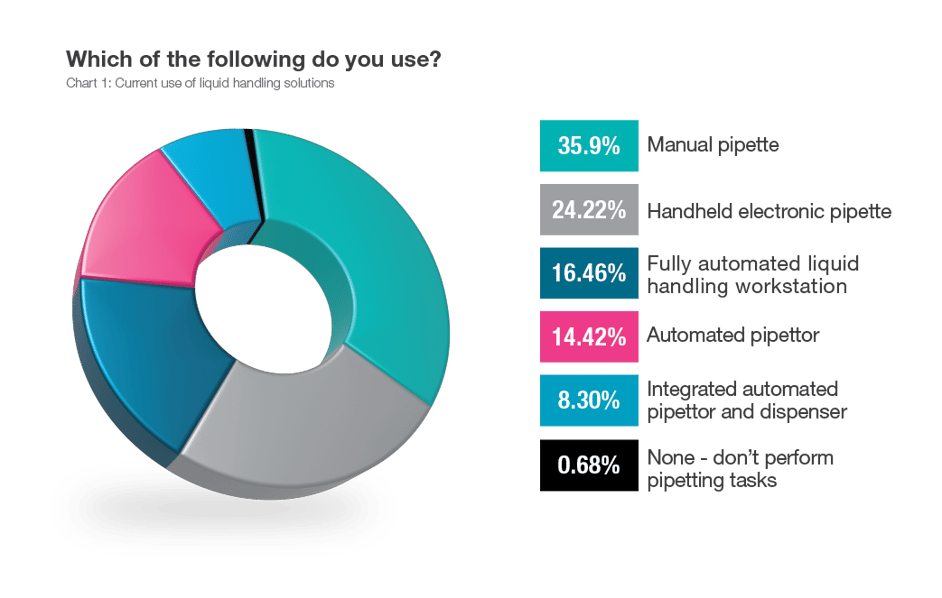 Handheld pipettors and manual pipettes are failing to provide the increased rates of throughput and levels of productivity that are now required. A large proportion of labs are using flexible automated pipettors for a wide range of day-to-day liquid handling activities in combination with higher-specced instruments set up for more dedicated workflows.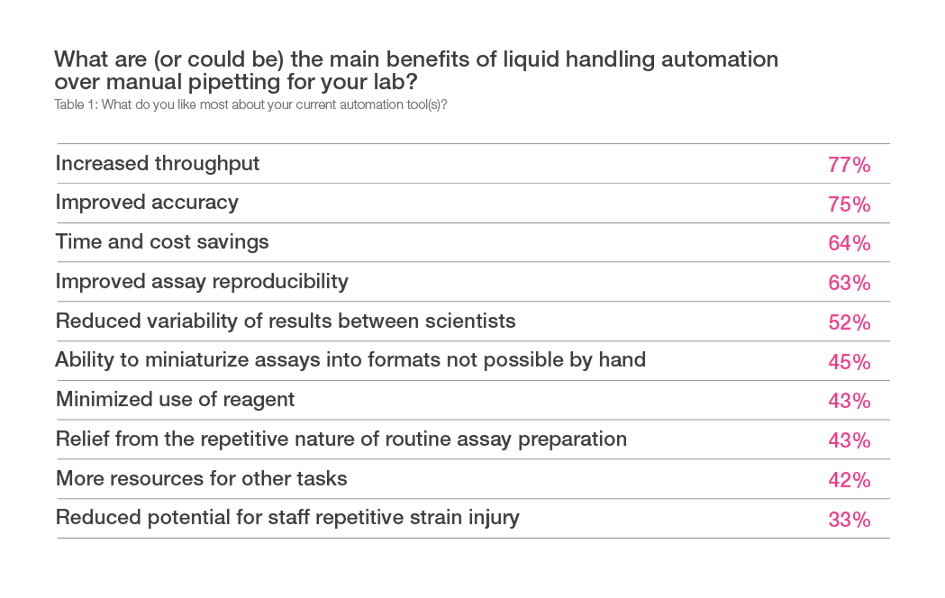 The growing automation adoption trend reflects what we've been seeing at our customers' labs: Many are now taking advantage of versatile pipetting tools to automate their smaller workflows and ad hoc pipetting. Given that versatile automated pipettors are now available at prices within reach of most lab budgets (see our apricot range of highly accessible pipetting solutions), perhaps that's not surprising.
What's driving the adoption of liquid handling automation?
There are two main drivers of automation adoption, which we can identify from our survey results as push and pull factors.
The push factor incorporates all the drawbacks of manual pipetting: limited throughput, variability of results, and significant amounts of researchers' valuable time spent on tedious tasks with the risk of repetitive strain injuries. Interestingly, 70% of lab professionals still spend more than 1 hour a day on manual pipetting tasks even when they have access to automated liquid handling tools in their labs. This rises to an average of more than 3 hours a day for participants who never use an automated tool.
The efficiency gains from automation hardly need stating, especially if you take into account that whole teams of highly skilled lab staff are spending time on manual liquid handling every day of the week. For 62% of survey participants, the time and resources spent on manual pipetting were among their key workflow challenges. And that's even before considering the critical benefit of improved data quality that automation offers.

Among the pull factors, there are equally compelling reasons for labs to automate more of their liquid handling processes. From the survey, it's clear that data quality is the number one challenge: 78% of participants indicated that improving the accuracy, standardization, and reproducibility of their results remains a major challenge. Other key challenges include increasing throughput (49%), reducing reagent use (34%) and reducing dead volumes (29%).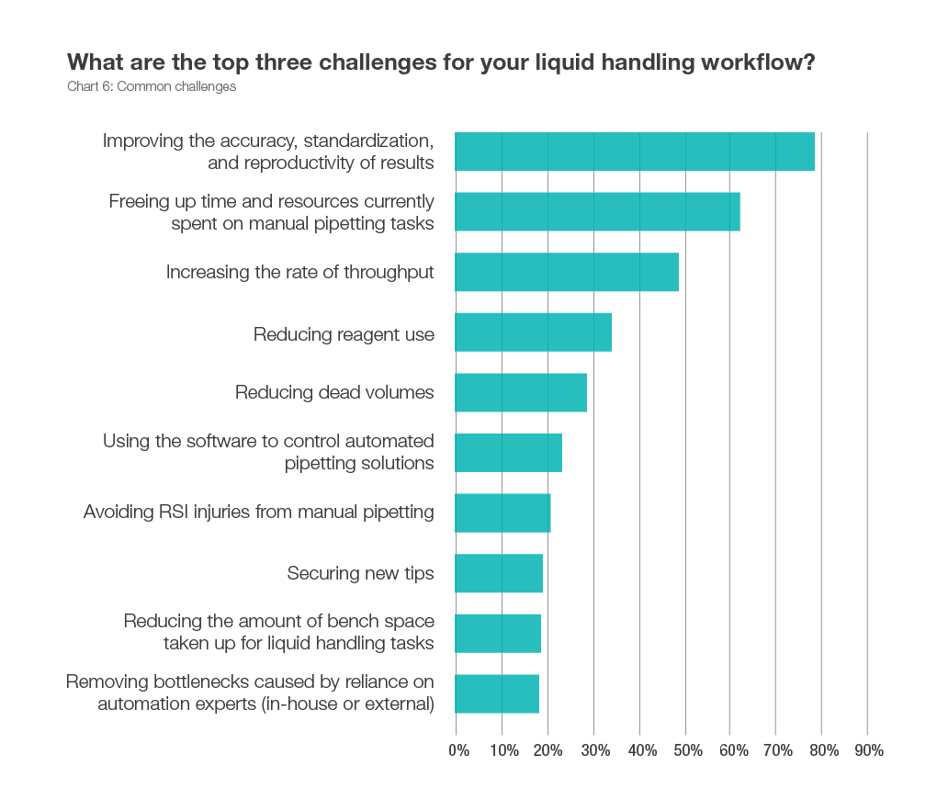 Liquid handling instruments present their own challenges



While automation delivers better data quality, the survey results suggest that vendors of liquid handling instruments are failing to offer the ease of use that many labs now expect. This applies to the setup, use and maintenance of the instruments themselves as well as to user interaction with their instruments' liquid handling software.
A large number of survey participants mentioned the following key challenges:
Difficulties programming simple tasks and the lack of data integration with other instruments

Complexities when preparing and using higher-end or bespoke liquid handling setups for smaller, ad hoc pipetting tasks

Steep learning curves, dependency on automation experts, and issues around calibrating instruments

As well as these challenges around usability and the lack of flexibility, participants also highlighted the cost of consumables and problems with the compatibility of tips when asked what they disliked most about their current automation tools.

Want more insights?
For the complete picture, download your copy of The State of Automated Pipetting 2022 today! Compare your own lab's experience against the data and insight from the report. Hopefully, it will inspire you to future-proof your lab by taking the next steps towards achieving flexible and full walkaway capabilities for all your liquid handling workflows. To talk about your workflow challenges in more detail, get in touch with us. As always, our liquid handling experts would love to hear from you!